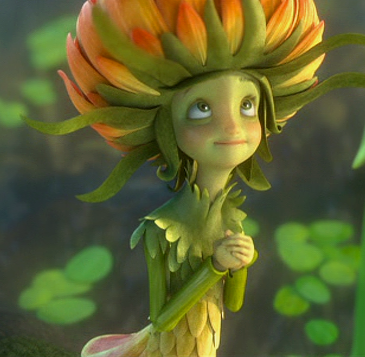 The Marigold Child is an unnamed pre-bloom marigold flower Jinn. Queen Tara is her childhood hero, and she wishes to be queen one day, frequently asking her mother "Can I be Queen when I grow up?". Later Tara saves her from Boggans, and she saves Tara. In the end she gets her wish as The Pod, that Queen Tara had earlier chosen, blooms and selects her to be recipient of "The Life of the Forest", making her the next queen.
The last of Queen Tara's essence tells her to "take care of" Ronin, kissing her on the forehead and completing the transfer of The Life of the Forest.
Personality
Edit
The Marigold Child has an excitable and innocent personality. She also gets excited\ hyper when she sees the Leafmen and she showed a side of bravery, when she helped her hero get away from the Boggans that were after her.
Closing credits list her as "Marigold Child" voiced by Emma Kenny.
She is a marigold jinn, her name is unknown.
Featured Media
Edit