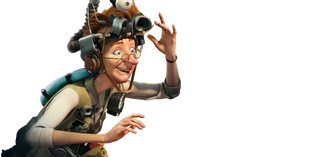 Professor
Radcliffe Bomba
is
M.K.'s
father and a scientist which is obsessed with finding the Leafmen to the point where it ruined his career and marriage.
He lives in Danbury, Connecticut.
Information
Edit
Other names: Stomper (by  Nod, Ronin, the Leafmen, the Jinns), This Guy (by Ronin, Nod)
Family: Mary Katherine Bomba (daughter), Susan (wife, deceased)
Pet: Ozzi
Friends: Considered a friend to the Leafmen and the Jinn by the end of the adventure.
Enemies: Mandrake, the Boggans
Love Interest: Susan
Personality
Edit
A very energetic person and tends to talk to himself. He does not notice many things if he is focused hard on something. Usually, he is almost always all over the place almost to the point where it is slightly eccentric. 
Appearance
Edit
Bomba's appearance seems rather thin and wimpy. Like M.K, he has reddish hair, small green eyes, a long nose and somewhat ridged teeth. He dresses in a long sleeved beige shirt along with brown trousers and brown shoes. He wears typical round glasses and a small brown watch. On his expeditions throughout the forest he wears the slow - motion helmet with various devices clinging to it. He also wears a green vest in which he uses to keep different items he needs with him. Furthermore, he is rather clumsy and so it happens that he trips and falls down a few times.
Although not used in the story, his name can be seen on his driver's license during the closing credits.

It also lists his address as 54 Saw Mill Road, Danbury, Connecticut, 07321.

M.K. mentions that because Professor Bomba was so obsessed finding the Leafmen, his wife decided to divorce him. 
Professor Bomba has created many things for finding the Leafmen. He has made a slow motion helmet, and has frames of clothing and armor of the Leafmen.
Professor Bomba shows to be an excellent artist, as he sketched realistic drawings of the Leafmen.
Professor Bomba does not seem to mind having his daughter date a Leafman.