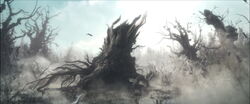 Wrathwood is the name of the Boggan's territory and often referred to as the "Island of Rot". The whole area is covered by a devestated forest and a rotted stump in the middle of this deadness serves as the Boggan's home and is the place where Mandrake supposedly tried to make the Pod bloom in darkness, which would createthee "Prince of Darkness" with whom's help Mandrake planned to destroy the Forest permanently.
Ad blocker interference detected!
Wikia is a free-to-use site that makes money from advertising. We have a modified experience for viewers using ad blockers

Wikia is not accessible if you've made further modifications. Remove the custom ad blocker rule(s) and the page will load as expected.